Take A Mini Hot Chocolate Bar Home!
If, for whatever reason, you elect not to include a hot chocolate bar at your wedding reception, but still want to incorporate the tasty treat in somewhere, send guests home with a mix instead! Package your homemade hot chocolate mix (recipe above!) in mason jars and top with chocolate chips and mini marshmallows. Seal the jar with a square of fabric and a ribbon that matches your color scheme. Your guests will love enjoying this at home!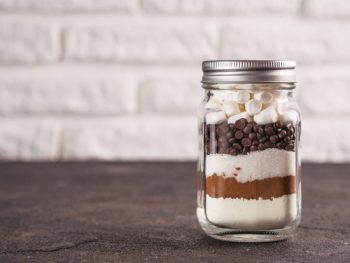 Thanks for stopping by. Keep reading for more of my winter wedding ideas.