Congratulations on your engagement! You're probably in the midst of planning so many things…your flowers, cake, dress, ceremony, rehearsal dinner, reception…and the list goes on. Many brides and grooms are so busy that they forget about the smaller details until almost the last minute. One of those small details is the head table at your reception. This is where the couple sits, usually with their parents and perhaps the maid of honor and best man. No matter who you'll be sitting with, here are some fun DIY head table decor ideas that will help make the big day special.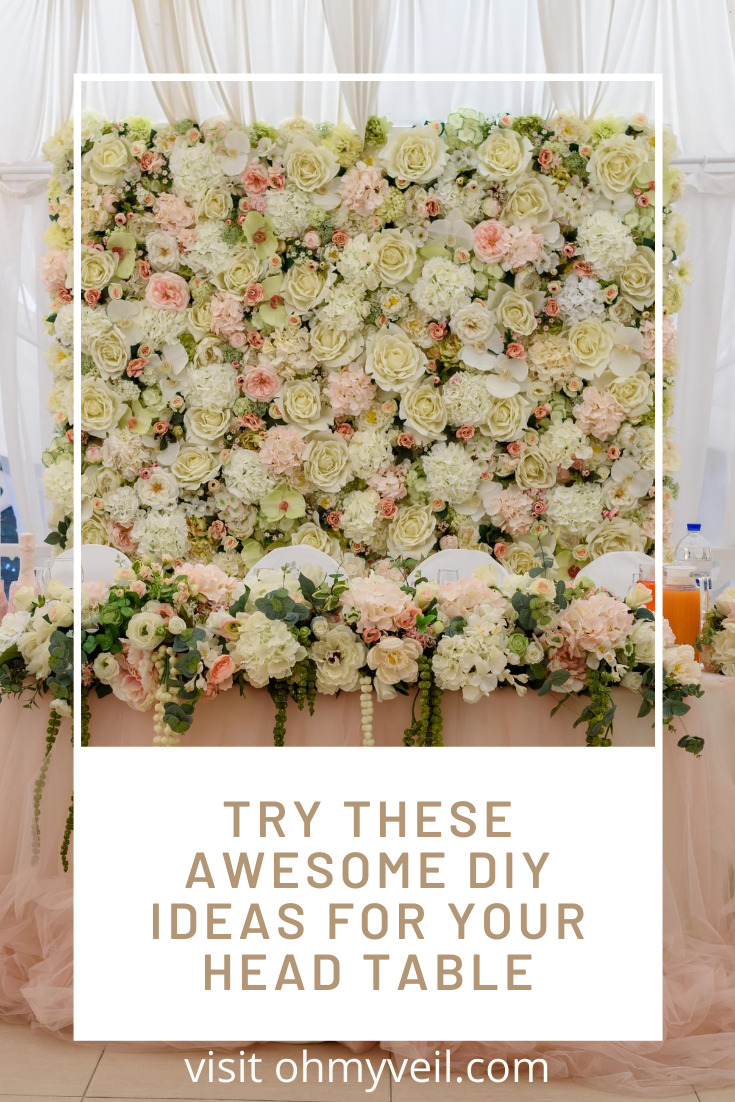 DIY Head Table Decor Ideas
1. Keep it Small
If you'd rather, you can instead plan your head table as a sweetheart table for just the bride and groom. A cute love seat or settee makes it cozy. You can make your sweetheart table fit the style and decor of your wedding, from garden inspired, to glamorous, to rustic. Try using light and an arbor, a shimmering tablecloth, a special centerpiece, and more.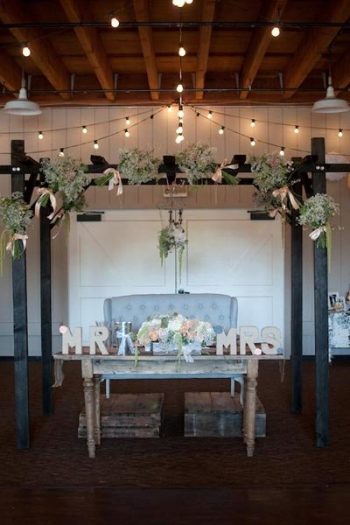 2. Take an Angle
If you will be seating a lot of people at your head table, try using a smaller one in the middle for you and your groom, with larger ones on either side at an angle.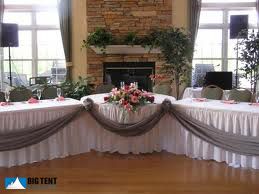 3. Rustic Backdrop
If you're planning a rustic style wedding, look at this beautiful wooden backdrop with lights and flowers. This one is small, but the same idea can be applied to larger head tables.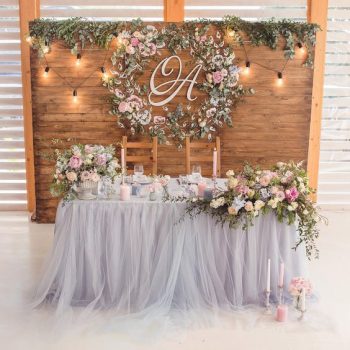 4. Mark Your Spot
Find some wooden Mr. and Mrs. letters at a craft store and spray them in metallic paint. They'll look glamorous and only cost you a few bucks. There are also some really cute banners available for this.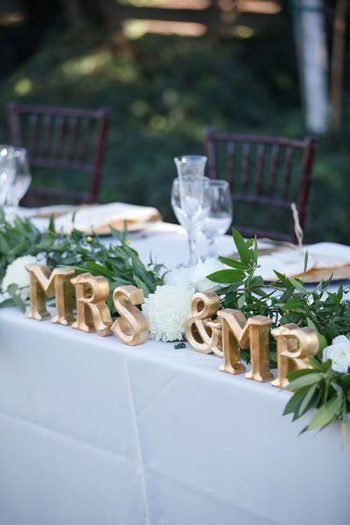 5. Light it Up
Simple strings of lights underneath a tablecloth can add drama to your head table without costing extra money. You've got Christmas lights, don't you? Make good use of them here. This is one of my favorite DIY head table decor ideas!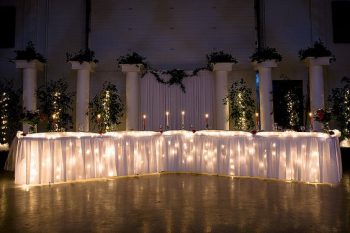 6. Floral Spread
Nothing dresses up a head table like a large floral spread. In fact, you won't need much else aside from the flowers to make the table look stunning if you do it right.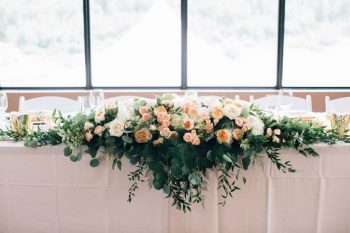 6. A New Direction
Nothing says everyone has to be looking at the head table across the front or back of the room. Why not extend it down the middle of the room instead, with a special place at the head of the table for the bride and groom?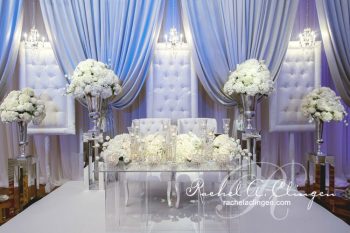 Article ideas an inspiration from the following blogs and websites:
Keep it Small:
https://www.bridalguide.com/planning/the-details/reception/sweetheart-tables-head-tables#156928
Take an Angle:
https://www.pinterest.com/pin/193514115214865127
Rustic Backdrop:
https://www.pinterest.com/pin/AT97p3FvoQteydlyGG5f-Pq0kTd0AAFHI6DkHraeqSS5fFqyrIpjz5E/
Mark Your Spot:
https://www.pinterest.com/pin/52495151885829727
Light it Up:
https://www.pinterest.com/pin/327566572875755103
Floral Spread:
https://www.pinterest.com/pin/AeTxnSmhrvrmJp1RW40QRxtVY0-4CuOZaU-VhzDKq4DVcgwHr7Pg_IA
A New Direction:
http://rachelaclingen.com/weddings/head-tables/
Dying to DIY your wedding? You can't go wrong with these ideas: