Announcing your engagment can be one of the most exciting things to do as a newly-engaged couple! If you're feeling stumped about how to announce your big news, here are a few of my favorite ideas! When I got engaged earlier this year, I was so excited to make my announcement, and practically ran home to post in on Facebook! It was so amazing to be able to share this incredible moment in my life with every single on of my family members and loved ones. Regardless of if you go the social media route, or if you send out announcements: you're sure to find something that you love!
Tell Those You Love, In Person!
Instead of posting on social media, tell everyone you love in person! You could throw a party to announce your big news, or you could even just tell your family at the next Sunday dinner! It's really exciting to tell the story of your proposal, and it's even more fun to tell the story in person!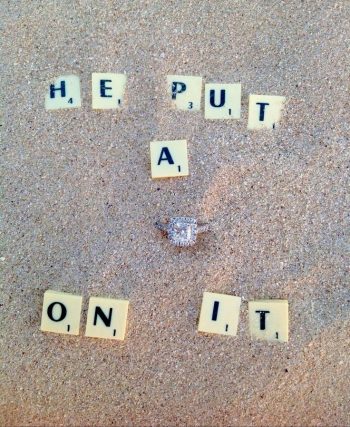 Post It To Social Media
You'll definitely need a cute picture to go with your major status update! Post on Snapchat, Instagra, Twitter, or Facebook. Pick the channel that excites you the most, and share your big news with the world! Don't forget to include a ring selfie, because we are all dying to see what your new jewelry looks like!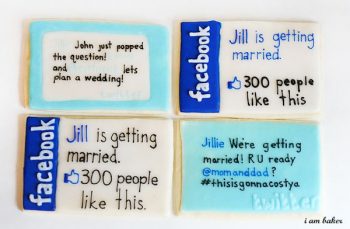 Send a Video
Did someone catch a sneaky video of the moment you said "yes" ? Don't forget to share this one with your loved ones! You could include the video in your Facebook status, text it to your friends, or go the REALLY old school route and email it. Either way, your loved ones would love to see a video of the moment!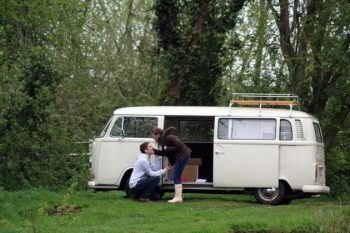 Mail an Announcement
These adorable wedding invites are such a fun way to make your announcement. You can purchase the engagement announcements pictured below on Etsy from Julie Ann Art.  Be sure to check out this article featuring TONS of different engagement announcements. You're sure to find one that you absolutely love!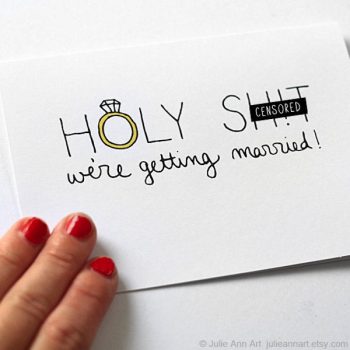 Announce It In Your Local Newspaper
Okay, we thought that emailing an invitation was old school, but you could always go even MORE old school and announce your engagement in your local newspaper. You can cut it out, and keep it in a scrapbook for years to come. Not to mention, all of your great aunts will be thrilled to send you thousands of the newspaper clippings!