Rustic Industrial Wedding Decor
Have you been thinking of ways to make your rustic industrial wedding decor a little bolder? Now, bold wedding decor doesn't have to mean elaborate patterns, tons of sparkles, and flashy shades of pinks or blue! Creating bold, industrial wedding decor is as easy as using shades of gray and gold. Gray and gold is exactly the color scheme needed to finish off your industrial wedding decor theme, so here are a few easy ways to work it into your decor:
Grey and Gold Tablescapes
You don't need many elements to make your tablescape beautiful! Pair tall grey candlesticks, with gold silverware and a simple green garland together for a bold yet rustic tablescape that will leave your guests in awe.
Grey Dresses With Gold Jewelry
Outfit your bridesmaids in beautiful shades of grey and a few pieces of gold jewelry. It doesn't matter which shade of grey you choose to dress your bridal party in, I think that they are all flattering! However, unlike the photo below, I think I would dress my groomsmen in a shade of grey darker than that of the bridesmaids, rather than the white. It would look much chicer and goes with the gray and gold wedding decor theme.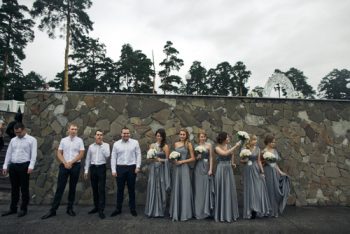 Wedding Invitations
Though your wedding invitations aren't part of your actual wedding decor, they are a crucial part in setting the ambiance of your entire wedding. Invitations are important, so make sure that you pick the pick the right ones! When it comes to grey and gold wedding invitations, Minted has the best variety around! Find the invitations below (and tons more!) on Minted.com.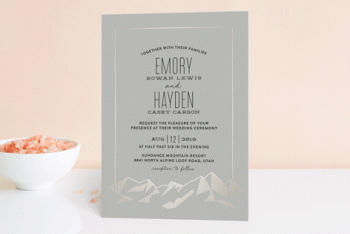 Grey And Gold Signage
I always think it's important to have a sign out front, so my guests know they're in the right spot! Welcome your guests with a grey and gold printed sign from the talented artists on Etsy. Pick your size and write a custom message, it doesn't get much easier than that!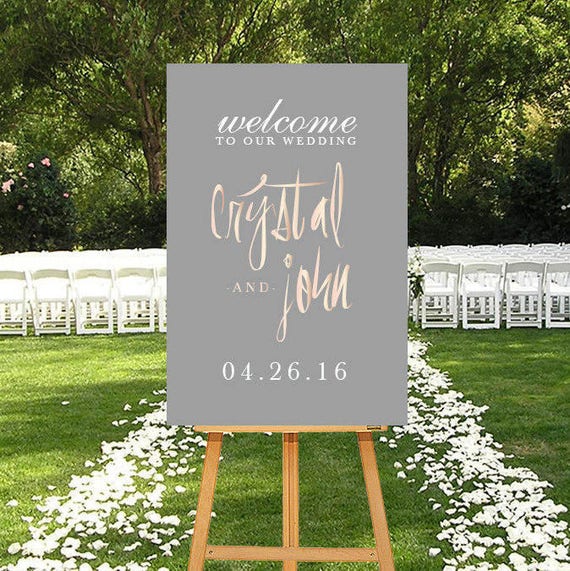 Don't Forget The Cake!
Your cake is another element of your wedding that will be photographed by many, so it's important that your cake match the overall theme of your big day! With gorgeous grey marbling and gold accent pieces, this wedding cake is almost too pretty to cut into!
You can even leave off the floral accents for more of an industrial vibe.
Image via the Pink Cakebox
Lighting
I'm a huge fan of string lights used as decoration whenever possible. They create such a magical atmosphere that's perfect for weddings! The lights below are even more magical with their golden lanterns that just encourage guests to look up! These would look perfect hanging over a dance floor.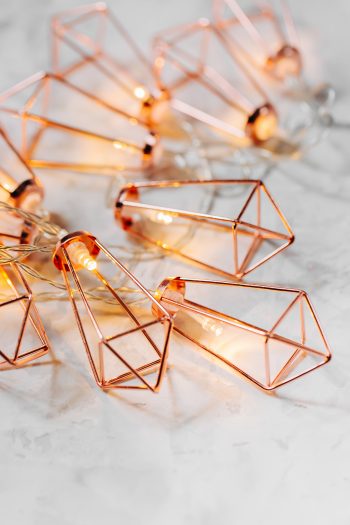 For helpful rehearsal tips, click here.