Flower Girl Dresses For Winter
One of the hardest parts about planning a winter wedding is picking out appropriate dresses for yourself..and your wedding party! It's a tough battle: you want your wedding party to look absolutely terrific, but you don't want the members of your wedding to die from the wind-chill the moment they step outside! If you're planning an outdoor winter wedding, keep these flower girl dresses for winter in mind on your big day! Everyone will stay warm and these dresses with photograph beautifully!
Sequins
This sequined flower girl dress for winter is a steal at only $24.99! The long sleeves will keep even the tiniest member of your wedding party nice and toasty and the sequins will add some flair. Add on the cute head bow to complete the look!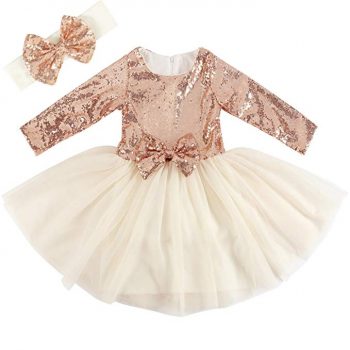 Off The Shoulder Lace Long Sleeved
If you're going for warmth, this probably isn't the dress for your flower girl; but it's still absolutely gorgeous! This off the shoulder lace dress is perfect for an indoor winter wedding. To make the look even more seasonal, swap the floral crown in for seasonal greens. You could even provide her with a fur over-the-shoulder throw to keep her warm during the outdoor photographs. This is one of many flower girl dresses that can be easily modified making it very versatile. Purchase this from Blush Fashions for $81.90.
Blush Lace Long Sleeved
Just because your wedding is in the winter doesn't mean you have to stick to a white color scheme. For a unique look outfit your bridesmaids and flower girls in pink or blush colors. The dress is longer…both in the sleeves and the skirt so it will keep your flower girls warm when that winter wind strikes! This dress is also available in white and can be yours for only $82.90.
Burgundy Wedding Dress
A long burgundy wedding dress is perfect for any holiday wedding! The rich red color is effortlessly elegant and completely season appropriate. If it's extra cold outside, have your flower girls wear tights or stockings. These tulle skirts are so lush and full that you won't even notice! Such a beautiful look for flower girl dresses for winter. Find this wedding dress at Blush Fashion for $117.60.
Baby Wedding Dress
It can be especially tough finding winter flower girl dresses for the babies of your wedding party! You can find a classic lace and tulle dress for babies here. With the right pair of tights and a little shoulder throw, your flower girl will look like a snow fairy! Purchase on Amazon for $15.99.
The Perfect Christmas Dress
Planning a holiday soiree? This dress will make your flower girl look like she belongs under the Christmas tree! The cut of this dress makes it better suited for an indoor wedding, but the detailing is a perfect flower girl dress for winter, especially Christmas church wedding. Purchase it on Amazon for $19.59.
Velvet and Tulle Separates
Skirt separates are one of the hottest trends in bridal fashions and whose to say they wouldn't be equally as great on a flower girl? When I think of winter, I instantly think of velvet fabrics and gigantic tulle skirts and this dress DEFINITELY fits the bill. Pick up the top and tulle skirt from Blush Fashions, starting at $40.60.