If you're a winter bride, I'm sure you're busy planning every detail of your big day! I was a winter bride myself and despite the dress shopping challenges that came with the season, I would have it no other way. I think there's just something so magical about a winter wedding and reception! It must be something about all of those twinkling lights and snow. I worked incredibly hard on my wedding decorations (fortunately, with the help of my bridal party and my cool Mom!) and they were the favorite aspect of my wedding. Good decorations really create an incredible atmosphere. If you're a winter bride, sweep your guests away with these decorating ideas for a winter wedding.
Decorating Ideas For a Winter Wedding And Reception
Fill lightly colored bird cages or lanterns with strings of Christmas lights, and pinecones. The pinecones add a pop of neutral color to the decor, while the Christmas lights add that twinkle I mentioned earlier. A great place for these would be on the gift or guestbook table!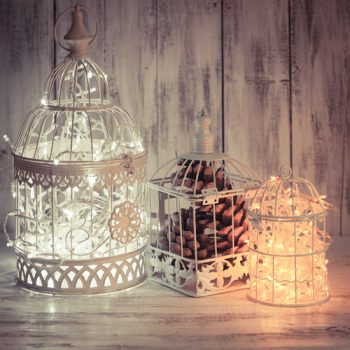 It's chilly outside, so why not stick with "cool" themed decor elements? The dark grey marble backdrop of this altar with the mirrored candlestick stands create a vibe fit for winter. The lush garland, globe lights and candlesticks create a gorgeous visual appeal while staying perfectly on theme.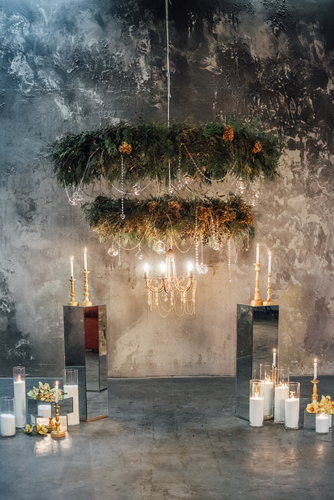 This is another photo from the wedding above, but I couldn't help but share another picture of one of my favorite details. This bride added a touch of magic (and extra light!) with hanging globe-shaped, tea-light holders around your dancefloor and tables. You can even sting together some crystal beads if you want to add a little extra sparkle to the reception or ceremony space. The pairing creates an effect much like falling snowflakes. Perfect for a first dance!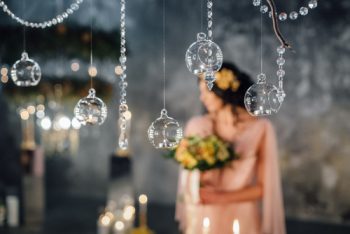 When it comes to decorating ideas for a winter wedding, winter greenery is one of my must-haves! The foliage colors are just so dark and lush and I think it adds a wonderful contrast to any winter wedding, regardless of your color scheme! Plus, it's seasonal; making it easier to come by and a lot cheaper! Utilize greenery like Eucalyptus, White Pine, and Bay Leaf. Pretty flowers to incorporate into your bouquets are Anemone, Scabiosa, Astilbe, and Hydrangea.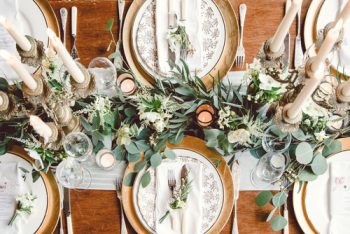 Don't forget to add any decorations to your area for photographs, should they be necessary. This couple added a quick draping of globe lights to their backdrop and it completes the photograph. I also wouldn't be against adding some fake pinecones to the trees (only for a minute, and always remember to pick up what you leave behind!) if they weren't already there. Or maybe some berries! It's important to wave your magic decorating wand over all areas of your wedding!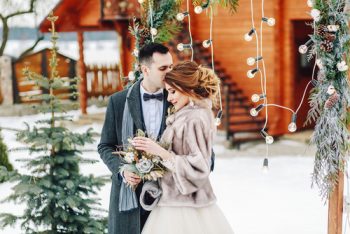 Tying the knot in December? Even if you aren't going with a completely Christmas theme, why not add a Christmas tree? I always like to see trees wherever I go during the holidays and you and your feature spouse could save these ornaments for decades to come. As an alternative, you could create a "giving tree" where you request that guests buy gifts for a family in need instead of wedding gifts. Have them place their donations under the tree before delivering them to their final destinations.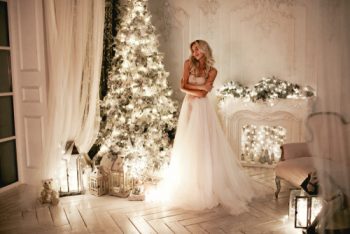 For the rest of your wedding planning, here are wedding hacks every bride needs to know!