Today we are talking about succulent wedding decor. I'm a lover of all things succulents used in home decor and used in wedding decor!
Individual succulents can go an incredibly long way in just about any wedding because they can be used virtually anywhere! Additionally, succulents are a great plant to accessorize with because they will remain alive long after your wedding day is over. After your wedding, you can give your succulents away as favors, or you can bring them home to plant in your garden. The options are endless when it comes to succulents used in wedding decor. Are you ready to explore a few of my ideas? Let's "grow!"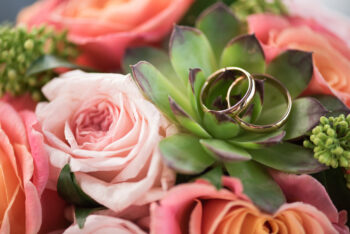 Succulent Wedding Decor
Succulent Bouquet
This bouquet with several large succulents will probably weigh more than a traditional bouquet (storing up tons of water is what makes succulents so heavy!) but isn't it simply gorgeous? It's possible to incorporate multiple varieties within your bouquets, ask your florist to work in different colors, too! This huge purple succulent instantly grabs your attention and the bouquet may have looked plain without it!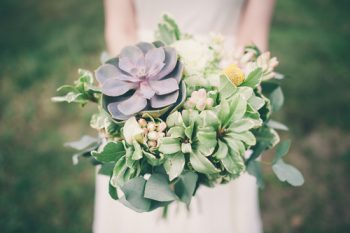 Succulent Wedding Cake
If your baker has a skillset similar to Buddy from Cake Boss, these mini fondant succulents should be a breeze to create! Paired with peonies and sugar-coated berries, this cake looks like something straight out of a woodland fairytale. A wooden cake stand completes the display and adds a bit of cool texture. Alternatively, you could use real succulents instead of fondant ones, but you might be picking dirt crumbs out of your frosting!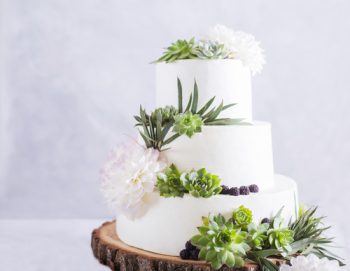 Table Number Displays
For a cute table number display, create mini succulent terrariums (taking care to layer the rocks so they're beautifully displayed) and top things off with chalk paint plant marker. These are definitely a favorite of mine for succulent wedding decor. Write your table numbers on the chalk paint plant markers so your guests know where to sit! Find plant markers like these on Amazon.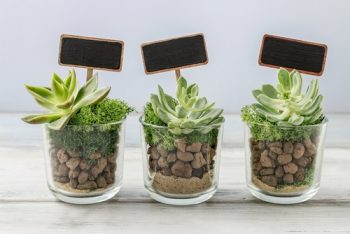 Succulent Centerpieces
Pair paper-wrapped 6-inch pots together across your head table for a perfectly rustic centerpiece. But this bride didn't only decorate with succulents, she added some cool cacti in there as well! Be careful not to prick your finger when admiring these dynamic decorations!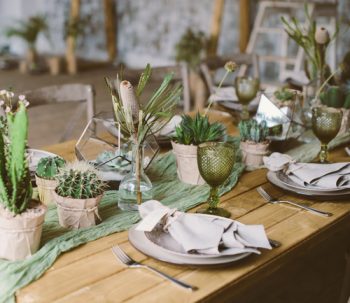 Succulent Wedding Favors
Send guests home with a wedding favor that they'll actually want! Or, one that lasts a little longer than a bag of Jordan Almonds, anyway. Add a tag with succulent care instructions so your guests can keep your party favor alive for years to come. No one will ever forget your wedding with a succulent that's practically impossible to kill. They are a bit more expensive than other kinds of favors but if you purchase them in bulk, you'll spend about $3-$5 on each tiny succulent. Blooms By the Box occasionally have good deals on succulents, be sure to check them out!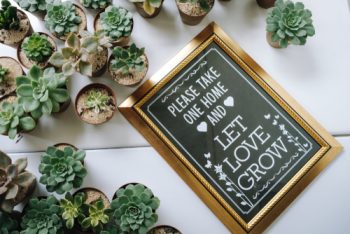 Colorful Invitations
Incorporate succulents in your wedding decor from the very beginning with a set of colorful invitations! Find these elegant invites on Minted in sets of 22 for $66 dollars. Choose from a heavy cardstock, recycled paper, or Pearlescent paper! These are obviously fully customizable and you may even be able to alter a few of the fonts. Amazing!
If these invites weren't quite your jam, click this link to browse hundreds of other succulent themed invites. You're certain to find one that works for you!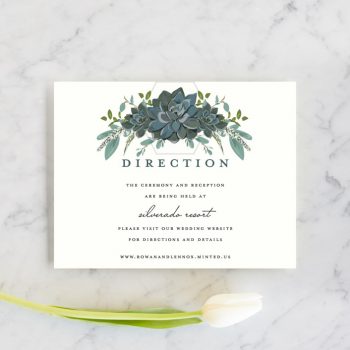 Try these ideas to decorate for your big day.