You know, a lot of my clients express a desire for a winter wedding, but a majority of them actually opt for something else because they don't love their winter wedding color combinations. You'd be surprised at how much that matters to some brides! If you're dreaming of a winter wedding that doesn't feel so..well…cold, consider choosing one of these warm winter color combinations for your wedding. They're cozy and seasonally appropriate!
Taupe and Dusty Blue
Dusty blue might be too 'cool' for a warm wedding color scheme if it was paired with only white. But this bride added in taupe wherever she could and it resulted in the perfect winter wedding color combination. If you look closely, you can see sprigs of blooming cotton. Such a cool touch!
Dusty Blue and Silver
Dusty blue is making another come back… only this time it looks beautiful paired with silver. If this color scheme is a bit cooler than you would prefer, try swapping the silver with shades of gold or copper. I'm practically drooling at the thought of copper paired with this shade of dusty blue. Totally gorgeous!
Plum and More Plum
I never thought that I would fall in love with this color combination as quickly as I did. Shades of plum, blush, and taupe layer together create a color scheme approved by the Sugar Plum Fairy. Choose lighter shades of plum for a warmer wedding vibe.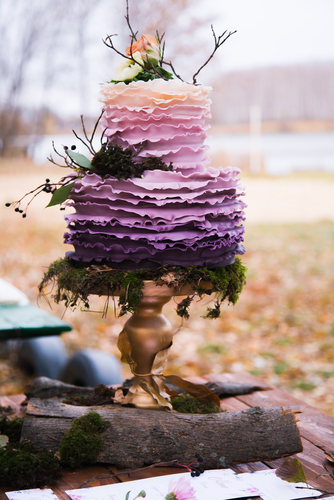 Blush and Sage Green
Pink and green? For a winter wedding? Doesn't that sound like a color scheme fit for a spring wedding? Well yes, pink and green are great for spring ceremonies, but different shades of pink and green are beautiful for winter weddings as well! To warm up your winter wedding, pair a shade of blush with a bit of sage green. The green keeps things seasonally appropriate while the blush warms things up!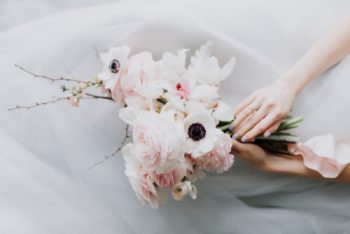 Mauve and Blush
Mauve is a great color to use for your wedding because it works as an appropriate accent for virtually every season, winter included. Pair mauve with shades of blush and sage for a stunning color palette any time of year!
Psstt…the mauve and blush color combination looks even more beautiful when paired with seasonal fauna like astilbe, hypericum berry, boxwood, dusty miller, cedar, or huckleberry. A crown made from those plants is sure to make any bride feel like she's in a fairy tale!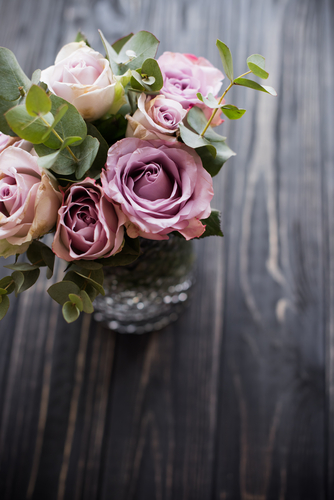 Sage Green and Mauve
Sage green is making another appearance, but this time, with mauve. This palette is perfect for couples getting married around the holidays because it's an elegant twist on the classic red and green Christmas colors. Doesn't the mauve look so much more inviting than the usual candy-cane red?