I want to share tips for saving money on catering that I learned while planning my own wedding. When planning your wedding, one of the things that costs the most amount of money is the catering! Who knew that it could cost thousands of dollars to adequately feed all of your guests? I agree that food is important and you want to have guests talking about the catering long after your wedding is over. I come from a large family and I knew I would need to spend some time getting creative so my catering budget could be kept in line. My homework paid off and my wedding was amazing. If you have a tight budget, but an extensive guest list, here are some tips for saving money on catering for your wedding's budget! These hacks will transform your wedding budget.
1. Use Non-Traditional Cuts of Meat
Saving money on catering is easy if you use cuts like beef cheeks and pork belly for your meats. Local fish can also be cheap to provide for a crowd, as well!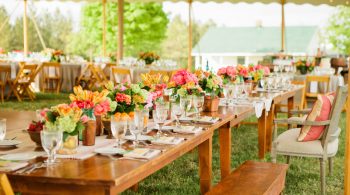 2. No Appetizers
Appetizers are nice to have, but you should ask yourself if you really need them! If the dinner is right after the wedding, most people won't even be hungry for appetizers! A cheese and bread station will be just fine to tide any hungry guests over! You'll decrease your food AND your labor costs. Perfect, right?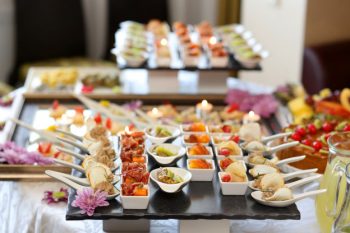 3.Use Disposable Plates and Utensils
Instead of serving your meal on fine china, elect to serve it on high-quality disposable plates instead. You won't need a bussing staff if you can just throw away your plates when done!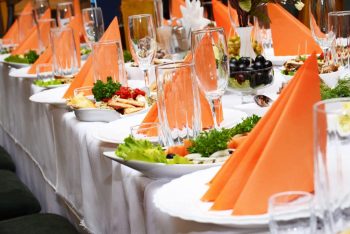 4. Don't Get A Big Cake
When I was planning my wedding, I was astounded at the cost of a tiered cake, and the work hours that went into making my cake! Use a small cake for the cake cutting ceremony, but have guests snack on treats like cookies, cupcakes or brownies. They'll love the variety of desserts to choose from.