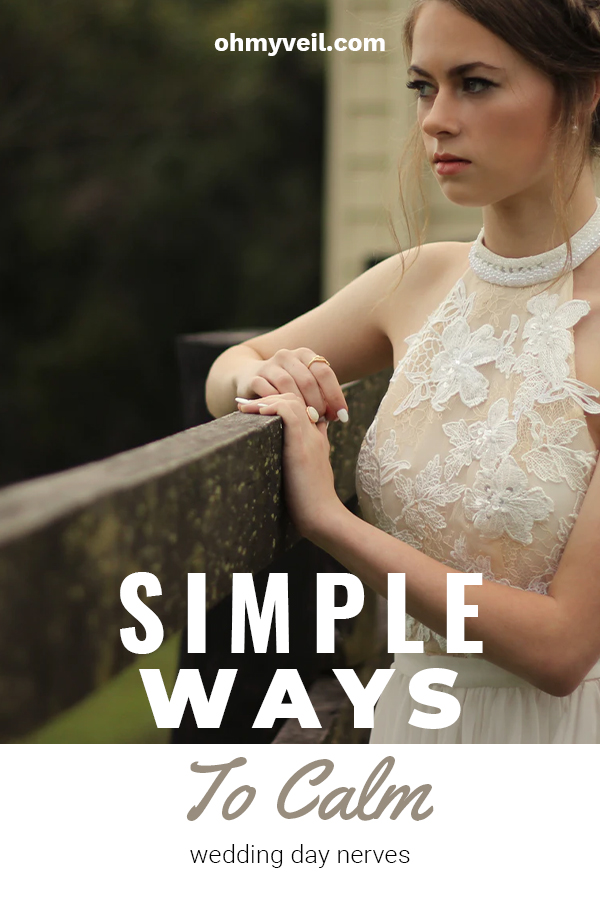 It's completely normal to suffer from wedding day nerves on your big day! Everyone gets nervous when they commit to a big life change, and your wedding day is only the biggest life change ever! Just because it's normal to get wedding day nerves doesn't mean you have to let them get the best of you! Here are a few easy ways to get rid of wedding day nerves:
Remember That There Will Be Imperfections
It's your wedding day, and whether you like it or not, something probably will go wrong. All you can do when it does is accept the imperfections…and roll with it. In the grand scheme of things, it probably won't matter too much that one of your brides didn't get the "heels only" memo or that your band was twenty minutes late. Laugh it off because these things will happen and sometimes they become the very best memories.
Make Sure You're Eating And Drinking Plenty of Water! 
Mom was right, food and water are often the solutions to MANY a meltdown. Keep them from happening on your wedding day by making sure you're staying full and hydrated. Pick healthy foods like nuts and fruits to get you through the day if you're worried about potential bloating. If you need caffeine, shy away from the soda and try green tea instead. You'll feel energized without that sluggish feeling in an hour!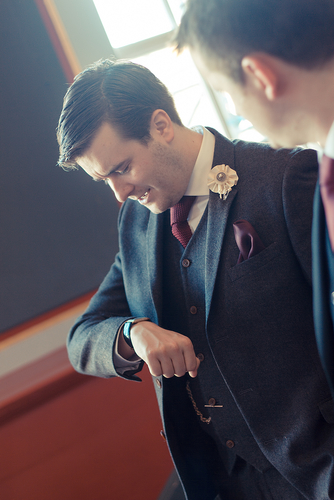 Envision Your Future Spouse…And All The Good Memories You Have Together
The best way to ease anxieties is by replacing the bad thoughts..with the good! Remember the fun memories that you've had with your partner. Envision that one time you two spent the weekend in the mountains camping, or at a music festival. These memories will help you remember that you do love your partner, and all of the second guesses are just a result of pre-wedding stress.
Talk It Out
If you're feeling anxious, talk to those around you! Head to your Mom or your bridal party to discuss what's got you so stressed. It's always nice to get a second opinion on a situation, and a good venting session always makes everyone feel better! Remember that your family and friends love you… if they didn't they wouldn't be celebrating with you!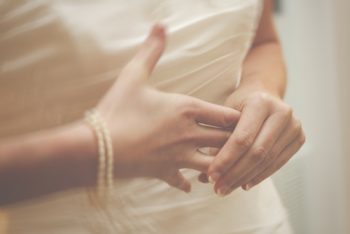 Go For A Run
Or…have a dance party! It doesn't matter how you get up and move around…just so long as you do. It's been proven that physical activity released endorphins that instantly boost your mood. Plan a time to get active with your bridal party for thirty minutes to ease anxieties. You'll feel so much better and it may even provide for a cute photo-op!
Have an Adult Beverage
Really! Have a single glass of white wine or champagne a few hours before you plan on walking down the aisle to help ease any jitters.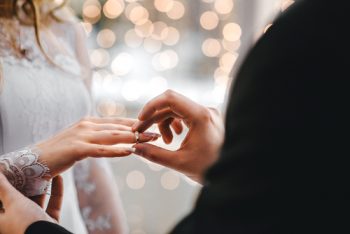 Visualize Your Honeymoon
Start looking ahead to the vacation that awaits the two of you! In only a day's time, you'll be off enjoying the beach, skiing down a mountaintop, or off exploring the unknown! Think of all the fun you'll have when you can truly relax, and remind yourself that it's only hours away. You've got this!
Take A Break!
Most importantly, make sure that you designate some time for yourself. It is your wedding day, after all! If you're feeling truly overwhelmed, take a break by yourself until you're feeling better. Your bridesmaids and vendors can handle everything while you do; you asked them to be a part of your wedding for a reason!