Back when I first started my career in wedding planning, one of my mentors never failed to mention how important a centerpiece was to the overall look and feel of a wedding. According to her, a centerpiece could make or break you! As I've developed a name for myself in the industry, I've only realized that my mentor was right: a centerpiece can truly make or break your wedding! If you are planning a winter wedding this year, consider featuring one of these winter wedding centerpiece ideas. They're seasonally appropriate AND they steal the show! You can't go wrong with one of these clever winter wedding centerpiece ideas.
Winter Wedding Centerpiece Ideas
Ruby Red And Forest Green
Keep things elegant and seasonally appropriate with classic winter colors like ruby red and forest green. You can fill your vases with whatever you would like, but I love how this bride layered her floral foam so it looks completely gorgeous. Don't forget to add a few berries in wherever you can.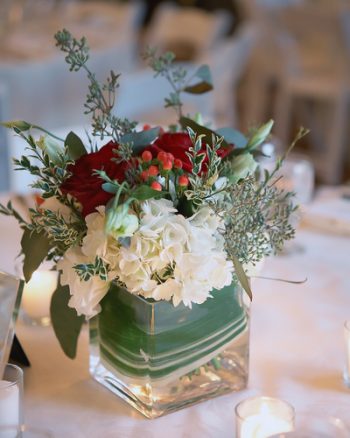 Winter White
If you've chosen to go with an all-white color scheme for your wedding day, you might feel a little limited when it comes to choosing your centerpieces, but I have a few helpful suggestions. I like that this winter bride kept her winter wedding centerpiece simple with overly-sized, snow-covered flowers, and dainty tea candles in various holders and you can do the same. The detailing provided by the elegant candle holders is everything!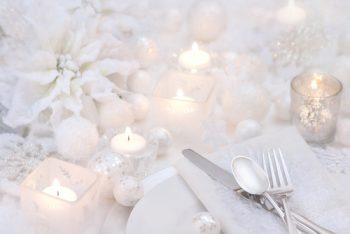 Roses
You can't go wrong with a winter wedding centerpiece that's made up of off-white roses and lush greenery. I've even seen brides pair their off-white roses with tiny pears. I use roses because the options are endless, but it's up to you to decide what looks best with your white roses.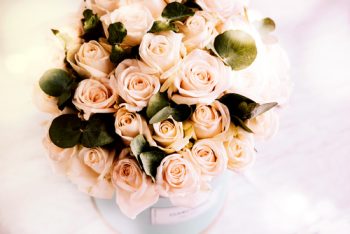 Glittered Branches
Head outdoors for some garden sticks used to create this elaborate centerpiece. Once gathered, you can trim your sticks to different sizes and coat with a layer of white spray paint. Once dry, add a second layer of glitter spray paint and watch this centerpiece light up a room! For even more elegance, display your sparkly "tree" centerpiece in a tall vase.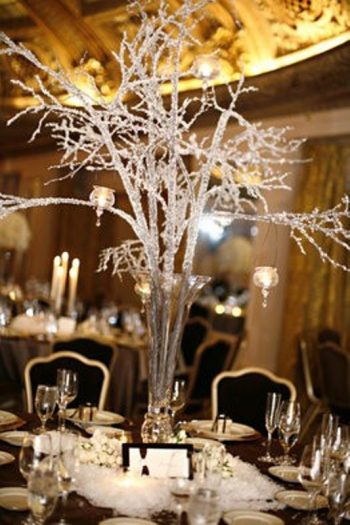 Rustic Elegance
Again, you'll want to head outside to get some of the materials used to make this winter wedding centerpiece! Depending on where you live, it might be super easy to just walk outside and find pinecones! However, if you don't live near pine trees, purchase pinecones at a craft store. After you've given your pinecones a facelift (this bride dusted her pinecones in white and gold glitter) you can display them in candlestick holders. Complete your centerpiece with a glass cloche sprayed with a layer of fake snow.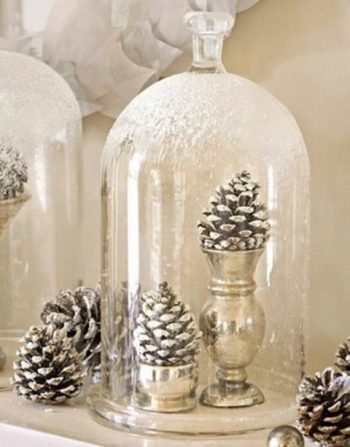 Light It Up
I like this centerpiece because it will light up ANY room instantly. I would suggest to complete the look, wrap strings of fairy lights around garden-found sticks (each stick should be about arm's length). If the fairy lights weren't magical enough for you, as an alternative, you can fill any "holes" in your centerpiece with floral accents.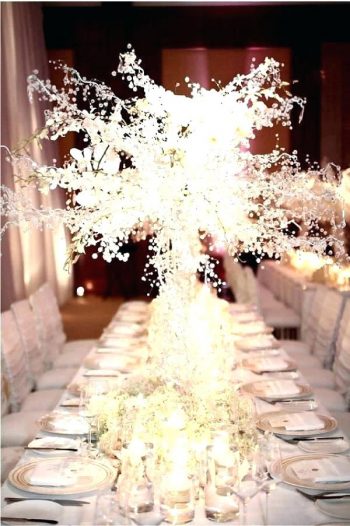 For more Winter wedding info: