This year, capitalize on the colored wedding dress trend even more by going with something gold on your wedding day. You read that right, gold wedding dresses are said to make huge statements this year!
It's 2020, and by this point in time, you've probably realized that white wedding gowns are no longer your only option! Over the years I've seen brides look stunning in every color imagine-able, from blush to black! Colored wedding gowns are the perfect way to add some personality and pizazz to your fashion choice. If you dream of going for the gold and looking like Gossip Girl's Serena VanDerWoodsen on your wedding day, try one of these stunning gold wedding dresses for yourself!
Gold Wedding Dresses
Love the thought of wearing gold on your wedding day but don't know if you can commit to such an extravagant color? Opt for a gold detailing instead! Here, this bride makes it look absolutely beautiful as the ribbon color for the lacing of her corset. It's such a subtle detail (and it even may go unnoticed by some) but one that will photograph beautifully.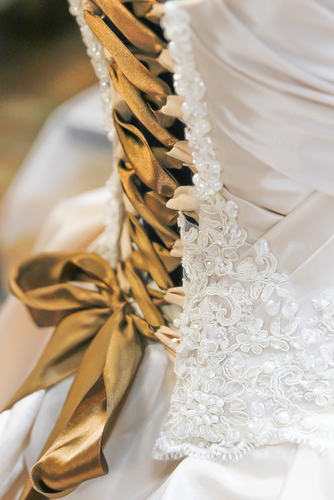 Again, I get it! Sometimes the thought of a vibrant gold wedding dress can be a little intimidating! If you want to opt for some color while staying somewhat traditional, go for a rose-colored wedding dress! Not only does this beautiful shade sit somewhere between pink and gold but also it looks absolutely to-die-for. Don't the dress and these bride's soft curls make this look totally timeless and therefor could work for many years?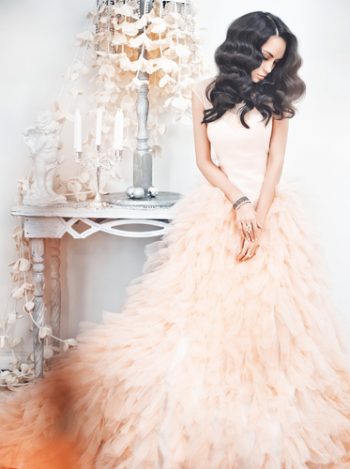 If bright, bold, but still beautiful sounds like something more your style, try this dress on for size! In the first place, it's available for purchase on Amazon and a great alternative for brides on a budget. Additionally, brides that are interested in a look like this can click this link to purchase the dress on Amazon. You'll die at the price!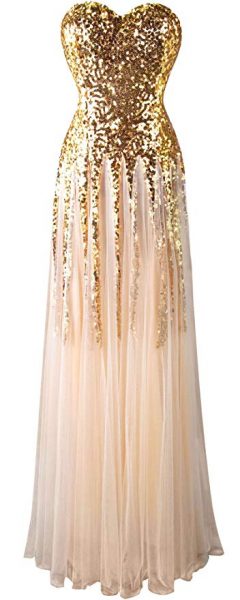 This little number is giving me some serious Serena VanDerWoodsen vibes! The gold detailing on the bodice and skirt of this ballgown look similar to the detailing on her wedding gown in the series finale. Personally, I indeed adore the subtle sparkle the gold detailing adds to this wedding dress. It's simply elegant!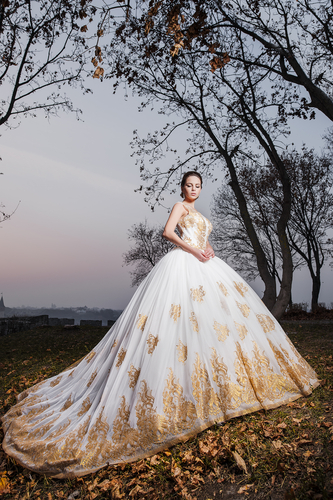 Last but not least, an absolutely beautiful gown from Luxury Brides. Intricate gold beading on the neckline and bodice of this wedding dress, coupled with the flowers of the headpiece add a bit of beautiful coloring. Equally important is the color of ivory skirt and a stunning hemline. Not to mention if I was going to get re-married, it would definitely be in this wedding dress.
Don't forget to check out my post on ideas for "something old". If you're going to have an amazing dress, your something old needs to be just as fabulous!