The Trend To Think Pink: These days, brides have so much freedom when it comes to the color of their wedding gown. I've seen brides in gold, blue, and even black ensembles on their big day and I love seeing what each bride chooses! If a totally white gown doesn't speak to your soul, but you're looking to keep things a little more traditional, try saying your vows in one of these stunning blush pink wedding dresses instead! They're a great way to get the pop of color you've been searching for, without looking too over-the top and bold (unless, of course, that's what you're going for!)
Blush Pink Wedding Dresses
Off The Shoulder Full Lace Gown- $290.00
I love this beautiful off-the-shoulder gown! The stunning lace detailing is the perfect way to flatter any bride while still being traditional enough to please even the most traditional Mom. Pair it with a matching veil designed by the same company and you'll look absolutely breathtaking on your wedding day. Click the link above for more information on where to purchase this beautiful gown! Psst…if you loved this look but aren't quite sold on the cover, this dress DOES come in classic ivory for those interested!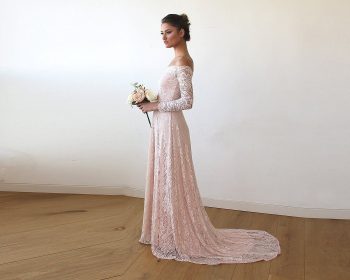 Off-The-Shoulder Blush Tulle Gown- $315.00
A blush dress just as gorgeous as the last, but with a bit of a different twist! This stunning bridal gown has a lace bodice (just like the gown above) but a tulle skirt instead of an all-lace one. Though this dress is a bit more expensive than it's counterpart, the tulle detailing will make any bride absolutely feel her most beautiful. Take a look at that ribbon detailing on the edge of her veil and the edge of her dress train, as well! It's details like this that make this dress so worth the money. Plus, after a quick visit to a seamstress, you could wear this gown to a less-formal event, too!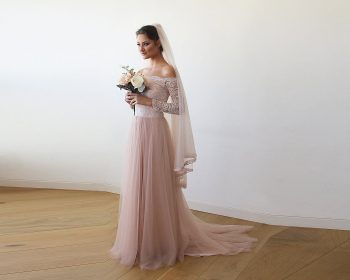 Long Sleeved Full Length Gown- $290.00
I get it, off-the-shoulder gowns might not be the right solution for every bride out there, and that's why I'm showing you this beautiful long sleeved on-the-shoulder dress instead! It has all the same aspects that were featured on the other gowns, but just with a different style of sleeve, making this dress perfect for dancing at your wedding reception. This dress is another one designed by Blush Fashion Boutique and can be purchased using the link above.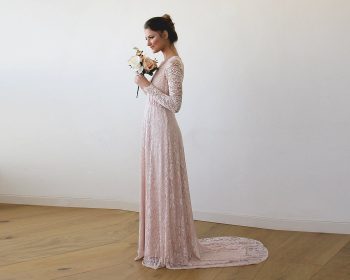 Other Blush Dresses
Looking for more blush dresses to consider for your wedding day? Don't worry! Oh My Veil has so many more options available for you! To see more blush dresses, check out this link to view more! With this many options, you're bound to find a dress you absolutely love.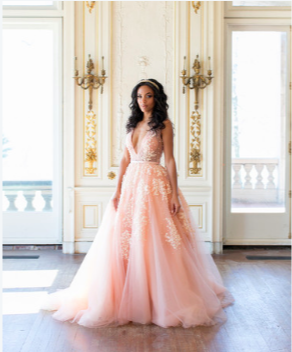 Blush Accessories
If you aren't convinced to go fully Blush for your wedding, consider incorporating a few blush accessories in wherever you can. A pair of blush shoes, a ribbon sash, or blush hair accessories could be a wonderful way to incorporate some color while keeping things a little more on the traditional side.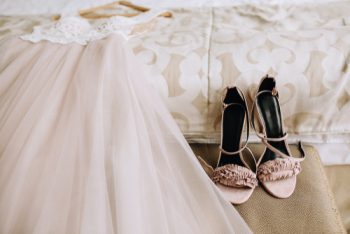 If you're obsessed with blush pink wedding dresses like I am, then this is perfect for you!