I was helping a friend of mine plan her wedding a few years back and she came to me looking for clever wedding hashtag ideas. Now at the time, I thought she was ridiculous. Why on earth would she need a customizable tag for her wedding? And then it hit me: it's great for social media! Have your guests add your customized wedding hashtag to any photo posted of the event. That way, the bride, and groom can search the hashtag on Instagram, Facebook, or Twitter and see all of the photos taken at their wedding. It's always fun to look at pictures from your wedding, especially if you haven't gotten the professional copies back yet. Plus, if anything, a cool hashtag is a great way to show everyone just how clever you are. 😉
Just A Few Tips…
-Incorporate your hashtag into your decor as best you can. You don't want to be obnoxious, of course, but you'll want guests to know what hashtag to use! Put it on signs, drink sticks, photo booth props, napkins, or even on your wedding favors!
-If you pick a commonly used hashtag, you will have to sift through thousands of photographs before you find ones from your own event. Choose a unique hashtag to avoid looking through tons of photos that have nothing to do with you!
-Remember that simple is better. No one wants to type out a long hashtag that doesn't make much sense.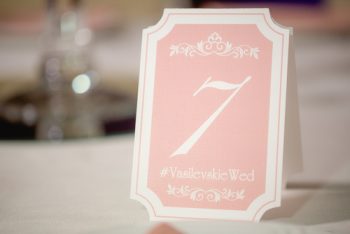 Keep It Classic
These wedding hashtags are frequently used, but adorable nevertheless. You'll probably notice that alliterations and rhymes are frequently used in the world of wedding hashtags. Here are a few classic options:
#TheDowsTakeTheirVows
#ToastTheThompsons
#HappilyHastings
#PerfectlyPetersens
#BorrowedAndBlume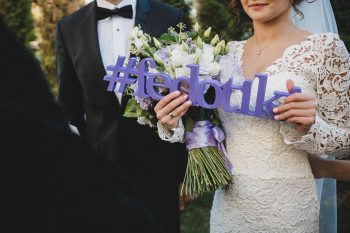 Make It Punny!
I love a good pun! Try your hardest to make your wedding hashtag a pun of some sort; it'll amuse your guests and it's memorable. These punny hashtags were some of my personal favorites:
#NoMooreFishInTheSea
#ThePerfectPear
#OneHaehlOfAWedding
#WalkinsOnSunshine
#ToHaveAndToHoldman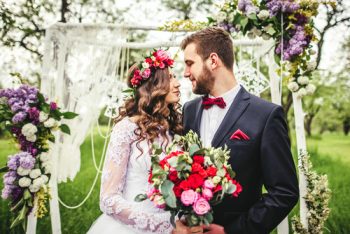 Use Your Location As A Tool
If you have a location that means something to you and your future spouse, see if you can incorporate that into your wedding hashtag somewhere. Keep this in mind if you are planning a destination wedding, as well! A few ideas:
#HannahAndHarrisonTakeHawaii
#BowensInTheBarn
#WeDoInDenver
#BoothBeachBash
#HitchedInHouston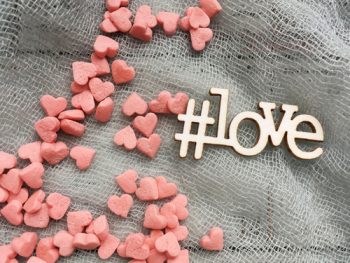 Use A Hashtag Generator
Yes, these really are a thing! It can be super tough to think of something clever that hasn't been used before. If your brain needs a break, pop on over to Shutterfly for an easy wedding hashtag generator. You'll put basic things in, and it'll give you more than thirty great ideas! After you've found one that you love, you can even use their tool to see if it's readily available on Instagram, Facebook, or Twitter. You won't have to do much work at all; it's only the very best part!